UPDATE | Fire Gardens online registrations are now CLOSED. If you were planning on attending but have not got tickets we cannot guarantee entry, however there may be limited tickets at the Box Office. You are welcome to come and see Song Circle and enjoy the food trucks, or make your way to Boorna Waanginy: The Trees Speak via the free event shuttle bus.

Presented by arrangement with Arts Projects Australia
As twilight settles on Government House Gardens you're invited to explore a magical world transformed by elemental forces.  
Fire Gardens is a mesmerising wonderland of firelight, kinetic sculptures and live music created by French artistic collective Compagnie Carabosse. From the moment you enter through an archway of flickering candle flame, you'll be entranced by this free artistic adventure full of illuminating surprises.
Candlelight flickers and cascades as you move through the gardens that come to life with thousands of firepots, candles, lanterns and wonder. Stop and take it all in from a swinging chair, enjoy melodies specially composed for flames and see shadows dance on the walls of Government House. 
Carabosse paint with the palette of fire – its colour, warmth, sound and scent. These luminary alchemists are renowned for creating site-specific sculptured landscapes from nearly 7,000 handcrafted giant candles and have illuminated public sites all over the world – from Stonehenge in England to Moscow's Kremlin Square, from Hue Bridge in Vietnam to Pont du Gard in the south of France.
EverNow has engaged local Noongar custodian Mitchella 'Waljin' Hutchins as cultural advisor to work with Compagnie Carabosse co-artistic directors Christophe Bricheteau and Christian Cuomo on presenting Fire Gardens on Noongar country.
As you move between Fire Gardens and Song Circle you're invited to stop by Keelap (campground), a meeting place for art and cultural exchange. Sit around the fire taking in a land installation created by Mitchella Hutchins and Elaine Clocherty and listen to stories told by Mitchella with Elvis Moody, Richard Nelly and Vivian Brockman-Webb. Linger a while to engage with the artists as they share artefacts and knowledge from this place.
In whatever way you choose to undertake your Fire Gardens adventure, this is a journey made for visitors to savour. 
Event and Ticketing details
Date and time
Date

Thu 5 - Sun 8 Oct

Time

6.15pm - 9.15pm

Last entry from 8.30pm

Duration

Approx 40mins
Tickets
| | |
| --- | --- |
| Free | Fire Gardens online registrations are now CLOSED. If you were planning on attending but have not got tickets we cannot guarantee entry, however there may be limited tickets at the Box Office. |
Location
Government House Gardens
Entry is located via Supreme Court Gardens
Get directions
Accessibility
Event notes
IMPORTANT Information
Keep moving! There's lots to explore after you enter.
The fire is real and it is hot! Please keep a safe distance and don't touch.
Your children are your responsibility, please keep them supervised at all times
Parking is limited check the COP parking app, or hop on the EverNow Shuttle Bus.
Please note your tickets have your allocated entrance time printed on them, but you may still have to queue to get in within this time. We recommend arriving 15 minutes before your slot to ensure you get the most time to experience this mesmerising wonderland of firelight.
Public Transport will be free if you show your Fire Gardens ticket.
Entry is located via Supreme Court Gardens
Exit via St Georges Tce to get on shuttles to Boorna Waanginy or to get back to Supreme Court Gardens.
Read the FAQs here
Download the map here
Road Closure 
Thursday 5 October – Sunday 8 October
Road closures will be in place on the corner of Governors Ave & Terrace Rd between 3pm-11pm.
No access to Governors Ave via Riverside Drive.
Any vehicles parked in the road closure area will be towed.
CPP Terrace Road Carpark and Perth Concert Hall Carpark will remain accessible via Victoria Ave.
View the road close map here.
Ticketing Info
If you need to cancel your tickets please contact [email protected] with the order number
EverNow | Free Shuttle Bus
Get to all three events!
Operates 7–10pm Fri 6, Sat 7, Sun 8 Oct
Runs every 5min
Make your way to all the events in one night by getting the bus travelling between Kings Park and St Georges Tce.
Travelling

 

to Kings Park from St Georges Tce bus stop 10081 (St Georges Tc Stand M before Barrack St) adjacent to Council House.
Travelling

 

to St Georges Tce from Kings Park bus stop 10113 (Kings Park Road) adjacent to Dumas House.
Accessibility Information
This event is Wheelchair Accessible.
The event area will include paving, grass, compact dirt, sloped and uneven surfaces.
If you have any access enquiries please contact the team via
email
.
"A primal experience, a respectful celebration of the beauty and power of the elements: there is fire of course, but also air and water. It's a truly beautiful sight to behold this holy trinity."
— ARTSHUB
| | |
| --- | --- |
| ARTISTIC & TECHNICAL DIRECTORS | Christophe Bricheteau and Christian Cuomo  |
| ARTIST, TOUR & PRODUCTION MANAGER | Lise Burgermeister |
| ARTISTS | Célia Cadran |
| | Manu Cottin |
| | Doudou Lejeune |
| | Chloé Moreau |
| | Baptiste Pizon |
| | Véro Rotureau |
| | Ber Sissan |
| | Maureen Cleret |
| | Julien Levret |
| | Mattéo Prenveille |
| | Melody Boulle Marichal |
| | Virginie Voyer |
| | Sophie Fortun |
| MUSICIAN | Kham Meslien |
| NOONGAR ADVISOR | Mitchella 'Waljin' Hutchins |
Our Other Events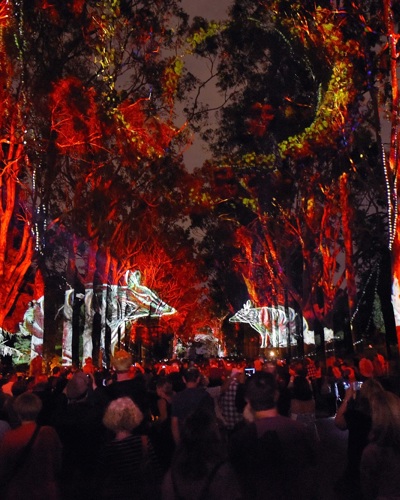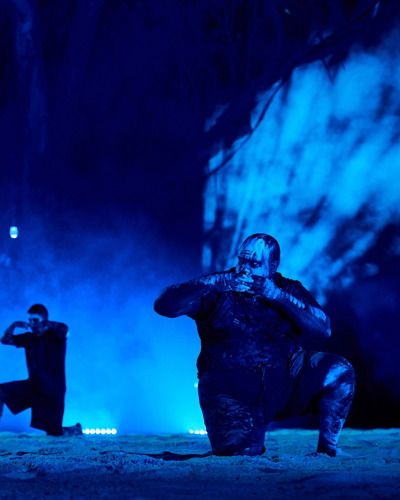 Andrew Beveridge
Vincent Muteau